Nano Clear
Nano Clear is a superior protective coating designed with Nano Technology that brings faded and oxidised surfaces back to life including powder coated aluminium, painted metal, fibreglass and other substrates.
Nano Clear restores the original colour and provides superior protection against scratching, abrasion, chemicals, graffiti and NZ's extremely harsh UV preventing future fading for 10+ years.
Primarily used in New Zealand to restore aluminium windows, doors and garage doors in residential and commercial environments this amazing product has multiple uses in the industrial, agricultural and commercial markets.
Come and talk to us at stand number 42, we'd love to see how we can help!
Outstanding product, Outstanding results, Outstanding service.
Make an enquiry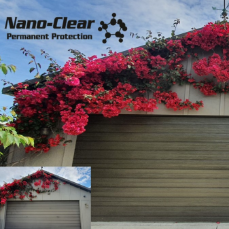 Special

- Enter the draw to win a FREE Garage Door Treatment

Simply enter the draw to receive a FREE garage door treatment to the value of $950 incl gst.
Conditions
Value is based on applying Nano Clear only. If painting is required prior additional costs may apply.